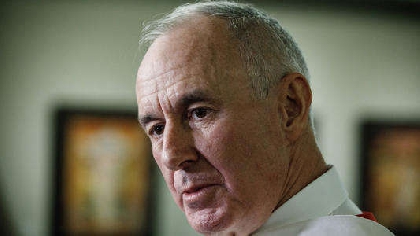 It's A Loss For Ron
A Major Loss?
Canadian hockey fans will be seeing a little less of Ron MacLean next season. Sportsnet confirmed that it has cancelled Hometown Hockey, a show that travelled to a different part of Canada each week for eight seasons. MacLean hosted the program alongside Tara Slone.
"There's so much loss for some in this story," MacLean said in an interview "That's first and foremost: I just think of those who are affected."
Hometown Hockey had been a fixture of Sportsnet's hockey programming since Rogers signed a 12-year, $5.2-billion rights deal with the NHL in 2013. It originally aired on Sundays but eventually switched to a Monday time slot.
Sources said that the weekly production was "an expensive line on the corporate ledger" and became tough to justify in a time where the sports media industry is undergoing change and cuts. All told, Hometown Hockey made 160 stops across Canada.
Just because MacLean will no longer be appearing on Hometown Hockey doesn't mean he'll be off the air completely. The 62-year-old will still be a fixture on Saturday nights for Hockey Night in Canada. He says a new contract has not been finalized but has been agreed to "in principle."
MacLean also addressed speculation that he and the network have been looking to part ways, denying the rumours that seem to circulate on a regular basis.
See what people are tweeting!
Re: Hometown Hockey being cancelled

Producing live hockey from a regular NHL city is already an extremely expensive endeavour, bringing that show on the road only adds to the costs

In the era of cord-cutting expect cost cutting

This is just the start

— Adam Seaborn (@AHBSeaborn) June 28, 2022