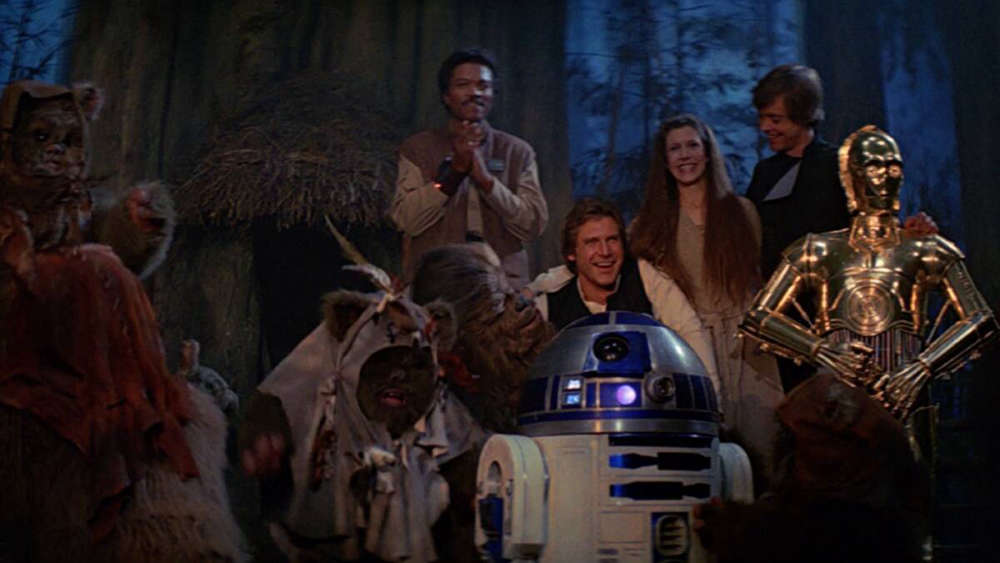 May 25th, 1983 in a galaxy far far away...
The movie Return Of The Jedi, the third in the Star Wars saga, opens.
It's also known as Star Wars: Episode VI: Return Of The Jedi. The film stars Mark Hamill, Harrison Ford, Carrie Fisher, Billy Dee Williams, Frank Oz as Yoda, and others.
Set one year after The Empire Strikes Back, the Galactic Empire is constructing a second Death Star to exterminate the Rebel Alliance. With intel that the Emperor will be onboard, the Rebel fleet launches a full-scale attack on the Death Star in hopes of both destroying it and the Emperor. Meanwhile, Rebel hero Luke Skywalker, now a Jedi Knight, struggles to bring his father, Darth Vader, back to the light side of the Force.
Filming took place in England, California, and Arizona from January to May 1982.
The film was released in theaters on May 25, 1983. It grossed $374 million worldwide during its initial theatrical run, becoming the highest grossing film of 1983.
The film was well-received by critics, with strong praise going to the special effects and action sequences, performances, John Williams' score, and emotional weight.
Several re-releases and revisions to the film have followed over the decades, which has also brought its total gross to $482 million. The United States Library of Congress selected it for preservation in the National film Registry in 2021.
Today also marks Frank Oz's 79th birthday too! He performed and did the voice of Yoda for this film and the other Star Wars films.
Check out the theatrical trailer below